Spent some time yesterday watching a guy with a chain saw do remarkable things, suspended by ropes far far in the air.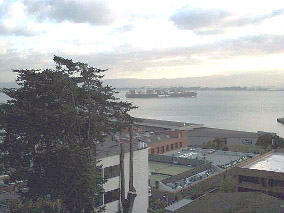 He and his ground crew took out one tree before lunch and worked on a tree with a branched trunk in the afternoon.
He's not quite done yet, as you can see by the stubby trunklets that are still standing. The split trunk tree was two or three times as high as the stublets you can see in this picture.
My first thought was did he have a permit? He must, we decided. The tree removal was happening just a few doors down from our esteemed Supervisor.
But we hadn't been notified, as we would've been in the bucolic ville. No permits? San Francisco? How could this happen without permits and neighbor notification?
The guy used ropes to lower some of the large branches, but when he started taking down the now-bare tree trunk, he just dropped five-foot-plus chunks of trunk straight to the ground. Boy howdy, the immediate neighbors must've been worried that some of the tree parts would accidentally drop on them.
We checked online and, it seems, lefty and environmentally sound as San Francisco is, there are absolutely no restrictions on hacking away at trees that are on private property.
If you want to plant or hack or uproot a street tree, it's a whole 'nother story, but we could find no rules whatsoever for trees in someone's backyard -- perhaps because there are so few trees in backyards?
The bucolic village from whence we came has
a whole set
of strongly-enforced tree rules up to and including that you cannot touch
any
tree
anywhere
that has a DBH (trunk diameter at breast height) greater than 10" (measured "at breast height," dur) -- unless it's dead.
If the tree is alive and a "native" tree ("'Native tree' means Coast Live Oak (Quercus agrifolia), Valley Oak (Quercus lobata), Tan Oak (Lithocarpus densiflorus), Black Oak (Quercus kellogi), Blue Oak (Quercus douglasi), Scrub Oak (Quercus dumosa), Big Leaf Maple (Acer macrophylhum), California Buckeye (Aesculus californica), Douglas fir (Pseudotsuga menziesii) and Coast Redwood (Sequoia sempervirens)"), the diameter at which the tree becomes untouchable is six inches.
San Francisco does not do this. Odd, wot?
Don't get me started on how those save-the-tree rules have resulted in a diminished overall tree canopy in the 'ville when they were intended to do exactly the opposite. Seems people are chopping down the trees that sprout up on their properties because they don't want to deal with the permit process later.
Old trees die. Young trees get chopped down. Result?
Someone I know
(and like!), one of our former council members / tree huggers who was the moving force behind the tree ordinance, is now heavily involved with the state environmental law process. She has a place on the coastal commission, yadda yadda. She didn't listen to me when I told her her tree ordinance was going to have consequences she didn't realize, and I never 'fessed to her that we had this sprout of a live oak growing up by our mail box that grew and grew and grew until the day I took a swede saw to it because it was verging on "hands off."
I'm torn. Property rights. Tree rights. Neighbor rights. Our view of Treasure Island and the north bay is improved, but I liked the greenery and loved watching the parrots that flocked and quarreled in the trees.
Fifty or so parrots came winging in on a whirl yesterday afternoon, making a quick spin around the stubs. They settled, squawking, in trees on the Filbert Steps. "Sweet Martha. Do you not see what I don't see? Wotthehell happened to our trees?"
The jacks will be back to take out the stubbed tree, I'm sure. I'm not sure whether the last of the three trees is scheduled for removal as well.
Our painters enjoyed their ringside view yesterday. They're back today for final touchups &c. The shocking blue paint I chose for the bay-facing walls and the deck trim is
very
blue.
Addem:
How blue? Check out
the background color
in this picture.
The bay-facing walls are painted
Benjamin Moore
's "Big Country Blue," semi-gloss with palegrey-white semi-gloss trim around the windows. The south-facing walls and the north-facing hip-high wall are also painted the same palegrey-white semi-gloss, a color known as "Marilyn's Dress," if you want to head over to Benjamin Moore and check the colors. The rail at the top of the hip-high walls and the wide trim board around the bay edge of the wooden deck are also painted blue.
Very bright
and I love it.
Later:
The jacks didn't come back today. Did one of the neighbors complain? Are there ordinances we just couldn't find?
The neighbor just west of the trees will have a
very
changed environment. Those who are just north will as well. I can see into their windows now, f'rex. (Not that I'm a snooper, mind you.)
Will there be litigation? Will the Supe bring ordinances to the Board so that such a desecration can never happen again?
Oh, interesting times.