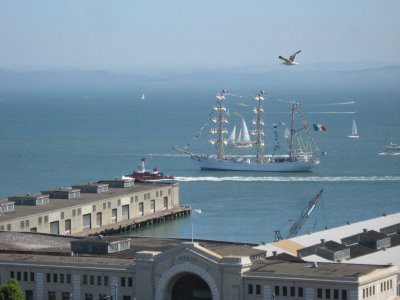 We heard the horn blast from our spots at the dining table where we were reading the Saturday paper. We heard another and then a third. What idiot was in the way and not moving?
We opened the doors facing the water and saw the
Jeremiah O'Brien
and the fireboats and sailboats and a scull and some kayaks. ... And then we saw the big attraction (and where the horn blasts had originated). The tugs were helping maneuver
the Cuauhtémoc
out of her berth as she headed out for further adventures.
I dashed up the stairs with my camera and shot, oh, fifty or sixty shots of the sailing ship, the old WW2 ship, and the sailboats from the deck.
Note the lines of young sailors at the top of the sails. No automated sail setting on
the Cuauhtémoc
, just young sailors with no fear of heights, awaiting the Captain's orders.
.................................
The Bay is filled with boats of all sorts and sizes today from
the Cuauhtémoc
to the one-person kayaks. The fireboats are shooting their water cannon. The sun is shining and hark! there's fog up there in the north toward Vallejo.
Lovely.