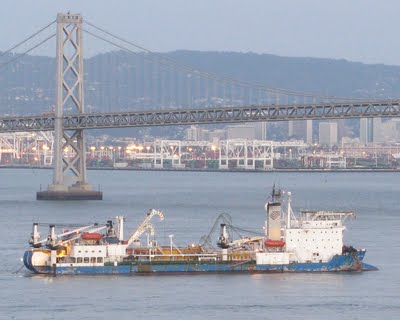 We've been watching the
Giulio Verne
for the last few days as it slowly moves along the waterfront toward Potrero Point.
The TransBay Cable
(a 53-mile long, 400 MW high voltage DC transmission line connecting the PG&E substation in Pittsburg with one down at Potrero Point in San Francisco) is becoming a reality.
Soon the spewing Unit#3 at Potrero Point will shut down. Unit#3 has the honor of being San Francisco's #1 source of nitrogen oxide (NOx) emissions. Take a bow, Unit#3.
When the cable is functioning, next spring, the California Independent System Operator (CAISO) will allow San Francisco to close down Unit#3. The three peaker plants at Potrero Point must remain available, however, until such time as San Francisco has replacement alternative power generation in place.