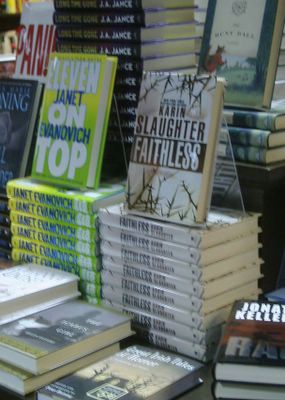 (Well,
her latest book
anyway ...)
Karin's
fifth book
in five years, FAITHLESS, was released in the U.S. yesterday. She'll be at
Bouchercon
in Chicago over the long weekend while I'll be missing my first B'con since B'con Monterey in 1997.
After Bouchercon, she starts flogging the book. She's in town next Thursday, talking and signing at
Book Passage
in Corte Madera at 1 p.m. and at
"M" is for Mystery
in San Mateo at 7 p.m.
After her gig in San Mateo (if her publisher doesn't have other demands on her time), we plan to kidnap her and take her to Hill, which she hasn't seen yet, and then feed her dinner as we walk her back to her hotel.
Friday morning bright and early she has a phone interview and then flies off to L.A.
Her tour schedule
sounds brutal.