Up at 4A for a 5:40A ride to Cairo Airport for a 9:15A departure. Flight to JFK took twelve hours or so. Customs and immigration at JFK and a wait for a 6:40P departure for SFO. Arrival ~ 10:30P PDT. Elapsed time from wakeup to landing ~ twenty-seven hours. Ouch.
Egypt Air served two full meals and snacks during its twelve-hour flight. Delta's seven-hour flight to SFO included gratis soft drinks, coffee and/or tea with peanuts, cookies and/or crackers. Ah, welcome home.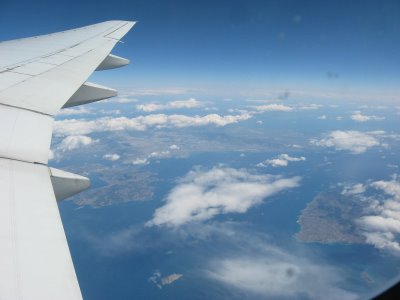 Schmutz on airplane window. Weather was lovely for the most part but missed Belgium due to cloud cover and could barely see the White Cliffs of Dover through the mists.
This shot is just past Greece, I think. Is that Corfu down on the right? Anyone?