And so it came to pass that we had our second annual neighborhood progressive dinner last night.
As usual, I skipped town -- after offering my minimal help in designing the flyer and settling on dates (dinner scheduled for a week and a day after we got back) -- and left the delivery of invites, acceptance of RSVPs, and scheduling to my charming co-conspirator, co-host and next-door neighbor.
We got back from Africa and I sent a note: Is dinner still on? Did we get enough RSVPs? Indeed it was. Indeed we did.
Some last minute re-shuffling of venues and a dinner we had. First stop, Napier Lane for kickoff and appetizers. Next stop our lane (and the charming next-door neighbors') for appetizers. Then upstairs next-door for salads. Then here for tapas (goat-cheese-stuffed Anaheim peppers, chicken piccata empanadas, beef and pepita sauce empanadas from me and vegetable frittata from a Napier neighbor). Then back next door and yet another floor up for dessert and coffee.
Neighbors included a couple who is putting their San Francisco life on hold and heading to Malaysia for a few years, a neighbor I'd never met but whose apartment I'd wandered through on one of our open house Sundays a couple months back, a neighbor who has left her job to go back to school for a post-graduate degree, the neighbors who have the colossal re-model just uphill from us, others, and the chocolate guy.
The chocolate guy lives on
Napier
Filbert but, because his life is still in boxes, decided he couldn't host and in lieu brought the desserts for the final gathering on the top floor next door. He had chocolate bars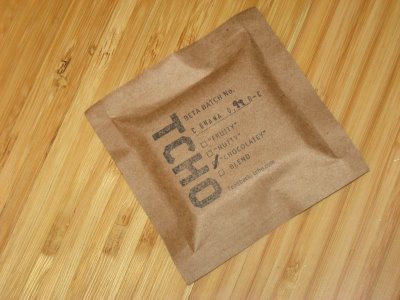 and two types of chocolate gelato (chocolate/cardamom ym!) and I went home the happy owner of a bag of chocolate nibs from his latest tonnage. My assignment: think up new ways of using chocolate nibs.
"add to salads" is already a known use.
I finally put the bag away this morning. I'd been nibbling out of hand during and after breakfast, over reading the Sunday papers. Nibbling out of hand is good enough for me.
Say, Timothy. Why not just sell nibs as a straight-to-the-vein snack for chocolate lovers who don't want to wade through all the other ingredients needed to make a chocolate bar?
Tcho --
the chocolate guy's chocolate
-- is that good. Tcho is a San Francisco company, working out of Pier 17.
Buy online! but only if you think milk chocolate is not worth the paper it's wrapped in and dark chocolate with chocolate content > 70% is the way to go.