We were down for a long weekend on a fairly HUGE piece of dirt that friends own outside Paso Robles, on the west side, in the hills, before you get to the ocean and San Simeon/Cambria.
This was their tenth annual Memorial Day weekend but ... for whatever reasons ... we've never been before. (Last year we had something happening, the year before ...)
We came this past weekend, bringing with us a charming teenager who lives in our fair ville, who needed a lift down to the party (unless someone from down in Paso was willing to drive four hours up to our fair ville and four hours back down with her.. and they would've been, but we promised to bring her with us).
The three of us arrived, after a four-hour drive, in time for chile verde and/or buffalo stew burritos on Friday night. We left after helping to pack up the tables and chairs and sundry furniture and stowing them in the workshop/barn on Monday morning.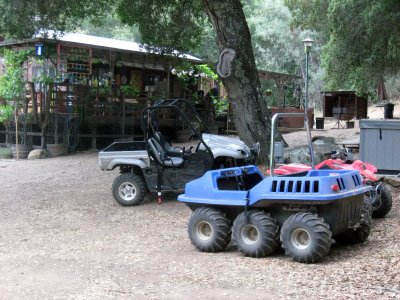 These folks invite a lot of people. (More than fifty. Less than one hundred.)
Some arrive Friday. Some leave Monday. Few are there for the duration. Some bring some pretty hefty trailer-type vehicles. (HUGE! some of them) Some bring vehicles the youngsters can chew up road with. (Wear your helmet!)
Folks bring their dogs, ranging from petite chihuaha-type dogs to WOLF HOUNDS THAT WILL EAT YOU FOR LUNCH. Watching the social dynamics of the dog pack was an on-going entertainment.
Some guests stay with other party-attenders. Some go over to Cambria or San Simeon to grab a place to stay. Some come in from Paso -- those who are relatives or high school chums. Most stay in tents, pitched on the grounds around the main house.
We were lucky (being the first to ask) to stay in the bunk house, with a bathroom and shower and EVERYTHING. (Plus the cabin is well-insulated so even when the evening temperatures dropped we were fine. We spread out sleeping bags on the futon ...)
First thing in the morning, our host started a huge pot of coffee. From there the day progressed through food. more food. visit to the farmers' market in Templeton. food. more food. drinks. drinks. more food. food. more drinks. dessert. drinks. And talk talk talk talk.
The guys cook. And others too. Burritos on Friday night. Salmon and pork ribs on Saturday night. Chicken on Sunday night. Sundry other stuff. Steam shovel vegetables. Desserts up the wahzoo. Salads. Hors d'oeuvres. Garlic bread. Caprese.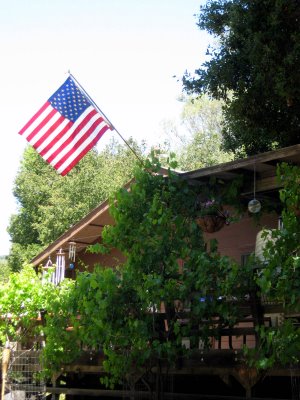 We also checked out the home of a close friend of our hostess (and work-related compadre of his nibs) on Sunday. His nibs had heard so much about the place while it was in the building phase and we were dead curious. Their home was less than five miles as the crow flies from Party Central, but almost fifteen miles by (sometimes dirt) road.
The house was not large, but the siting. ...
Oh. My. The. Views. (¡Mira los robles!)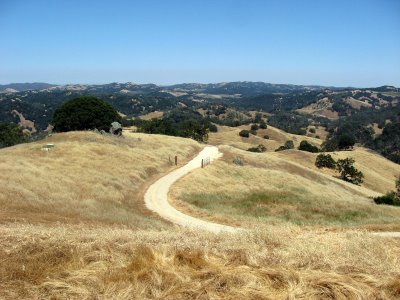 A good weekend was had by us. A really good weekend. Nice people. Good food. Interesting guests. Bouncy dogs.