Delicious winemaker dinner at
Acquerello Restaurant
last night. The winemaker brought wines that the chef wanted to pair with her food. It was all =really= delish.
Before we went, his nibs said, Piemonte wines. I think we've been to the village this wine is supposed to come from. He named it. I checked. I rummaged through old digital photos we'd taken on a trip in September 2002. And, yes, we had indeed walked through the village of Serralunga d'Alba.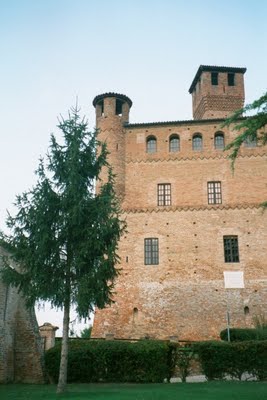 We'd poked through the square and climbed up into the castle that dominates the surrounds.
We'd walked through Gaja vineyards in the morning and watched them harvesting, before we walked up to the village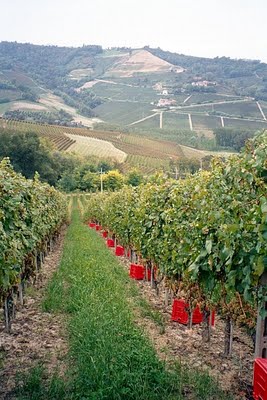 but I'm pretty sure we hadn't walked through Ettore Germano, which is a ways from the village and on the other side of the village from Gaja.
Tasty wines last night. He had a sparkling to start and a gem of an un-oaked Chardonnay before he dove into Barolos and such.
Plus Sergio Germano was a very charming man with loads to talk about truffles and wine and winemaking. Entertaining evening all around. We need to visit Acquerello more often than we do. Suzette Gresham-Tognetti makes such amazing food.