Specifically, Piers 23, 19, and 17. (Click on the photo to get an enlarged version.)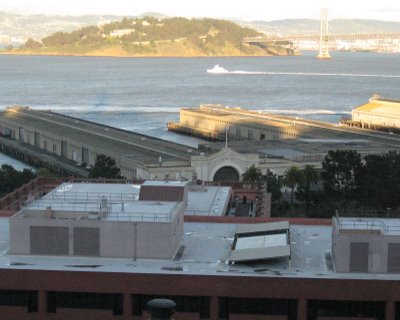 Note the pilings on the north apron of Pier 23.
Note the shabby temporary patches on the roof of the Port building facing the Embarcadero where Pier 21 would be, if there were a Pier 21.
Check out the pilings on the north apron of Pier 19. You can barely see the pair of orange cones keeping you from accidentally walking where the worst of the damage to the apron is. (The apron has crumpled and is no longer horizontal.) What you can't see in the picture very well is that the bulk of the apron to the west of the orange cones has disintegrated and fallen into the drink as well.
Check out the pilings at Pier 17 (the last pier you can see in the picture). They don't look in very great shape either, do they?
To quote from
a SPUR document
, published in
The Urbanist
in August, 2007:
The Port's 10-year Capital Plan is based on a comprehensive survey of the physical condition of all Port properties under its ownership. The Plan identifies the cost of bringing the Port into basic compliance with health, safety, seismic and Americans with Disabilities Act regulations, as well as fulfilling waterfront open-space needs, at nearly $1.5 billion. Almost one-third of the costs identified in this Capital Plan are for substructure repair and seismic strengthening of the Port's pile-supported structures.
Something must be done.
What will it be? What to do, what to do, what to do. ...