I came back from NC two weeks ago Monday knowing I'd picked up a bug but not feeling too funky yet. I had a luncheon date with Susan, our SF real estate agent, on Tuesday to meet up at the Pan Pacific Hotel for a fundraiser for the
National Kidney Foundation of Northern California
, sponsored by one of my favorite independents,
Book Passage
of Corte Madera and the Ferry Building in San Francisco.
I walked down from Telegraph Hill, a twenty-five minute walk or so, but had the good sense to ask Susan for a ride back up the hill afterwards. I was clobbered by the bug that evening but figure I would've even been worse off if I'd walked back up.
Book Passage brings authors to the luncheons. Eat! Listen to the author talk about their latest book! Give money to a good cause!
In this case, both Susan and I were there because Bacall was talking about her latest iteration of her autobiography: BY MYSELF AND THEN SOME. We asked for a table near the speaker because Susan has hearing issues and wound up at a table just to the right of the podium, maybe ten feet from Bacall.
She was amazing. Eighty years old. (Please don't mention it when you're talking to her.) Looks fantastic for someone who hasn't had facelifts that make it so she can't smile or move her face (her description of an actress whose name you'd recognize). She'd strained a muscle reaching to work a blind and was in sensible shoes and not walking as perky as she might, but she was grand: funny, self-deprecating, gracious, ascerbic.
She told the story of writing her autobiography the first time, twenty-five years ago. The publisher asked her to write it. She knew the editor. She said, sure, although why anyone would want to read my autobiography is beyond me. She said she sat down with a tape recorder: I was born, I went to high school, I went to Hollywood, I married Bogey, ... In ten minutes, she said, she'd told her life story. What now?
What now? was that she switched to longhand. That slowed the story down and she was getting somewhere until she started staring out the window and wondering whether the frig needed cleaning. Her output ground to a halt. Her editor was patient and patient and patient and finally laid down the law. He told her to report to the publisher's building where they would give her an office with no distractions to work in.
... and work she did. She wrote a rough cut of what she needed to cover and found out that the more she wrote, the more she remembered, the more she wrote, the more she ...
She finished the book and was pleased when it sold briskly. Recently the publisher came back to her and told her that the book was still selling but the publisher would like her to write a follow-on, an update to cover the past twenty-five years.
She did. Now, she's touring around the country flogging her book ... at age eighty. She said she wished she could stay longer in San Francisco but her publisher had her scheduled elsewhere and she had to move on.
Crossed fingers I'm in the same sort of shape twenty-seven years from now.
She mentioned that she knows -- and she's told her Bogart children -- that no matter where or when they'll never escape Bogey's shadow. She'll always be the Bacall of Bogey and Bacall. They'll always be Bogart's children.
Bogart died in 1957 when Bacall was thirty-three years old. Forty-eight years have gone by. She's made a success on Broadway and elsewhere. She married and divorced Jason Robards. She begat Sam Robards. Still and all, she says, she knows when she dies her obit will mention Bogey and Bacall. Not that there's anything wrong with that, she hastens to add. She was nineteen when she met Bogart. She married him. He introduced her to acting, to Hollywood. She knows she wouldn't be where she is today without him and yet ... she is so much more than the Bacall of Bogey and Bacall.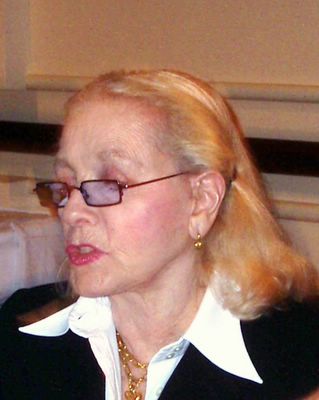 Lauren Bacall 15 Mar 2005

The luncheon comes with a book by the author. I stood in line (where I took this picture) to have her sign my copy. I bought a second copy and had her sign it too: that copy is for an eighty-year-old woman of my acquaintance. Shhhh. It's a surprise for Mother's Day.