Spent the long weekend in Winston-Salem, NC.
Early February Kathy Vincent sent an e-mail that she was going to have her first ever show of her watercolors -- hers alone, not just as a watercolor or three up in a group show.
I've known Kathy for a long, long while. We met ten? eleven years? past in the
misc.writing Usenet newsgroup
. I knew her when she was winning short story awards. I knew her before she seriously took up her painting. I've known her a
long
time.
I'm still bouncing around in misc.writing off and on after all these years. KV's last post to misc.writing was
way back when
.
But we'd kept in touch in e-mail. When she started
putting her watercolors online
, I bought a few I really liked.
When I heard her show was opening, I invited myself to Winston-Salem, if she had no objections. His nibs had qualified for a free ticket anywhere United or Lufthansa flew -- a free ticket that wouldn't use up any of his bonus miles cache. The ticket had to be used (there and back) by April 1st.
He and I'd been wondering where I
could
go and where I would
want
to go all by my lonesome. I'd need a hotel room. A car. I'd need to find food. Maybe an English-speaking country would be the best bet. How long did I want to stay? The possibilities were mind-boggling. Maybe his nibs should visit the daughter and grandchildren instead. Deliver some goodies that are too fragile to ship. Maybe. Maybe.
But his nibs was up to here at work and told me if I didn't use the ticket it would go to waste, just like the ticket years past that I couldn't use because I got stuck on a five-week-plus long trial jury while the clock when tick-tick and the freebie ticket expired.
Then out of the blue, Kathy's news. So, um. Kathy. Would you mind having company? Would it stress you out to have the added stranger-from-the-interwebbie-thingy come visit while you're gearing up for the show?
KV (after a suitable period of thought) said, "No. Come on by!"
So, off I went.
We had a good time. Folks at the gallery opening were fascinated that someone would fly from California. Folks at the gallery opening were fascinated that I chose Winston-Salem when I could've gone to Geneva. Folks at the gallery opening were fascinated that KV and I had known each other for eleven or so years and had never met up. They were fascinated that an interwebbie pal would be pal-enough to come to her gallery opening ... and that she had no fears. No fears, I said. I'd promised to leave my interwebbie murdering axe at home.
We had a good time. I arrived late Thursday. We hung out on Friday with her sister who drove in from across the state. Saturday was the grand opening. Her parents showed up unexpectedly -- they hadn't wanted her to worry about them driving as far as they did. Sunday early her sister left on a business trip and the folks headed off to visit relatives. We hung out Sunday and Monday I flew home after lunch.
I came back with a cold -- chest, sniffles, bleeeeaaah -- perhaps from someone who sneezed on me at the gallery, helped along, no doubt, by my lack of sleep in a strange hotel bed and the plane rides.
I came back with a receipt for this: to be sent as soon as the show closes in early April.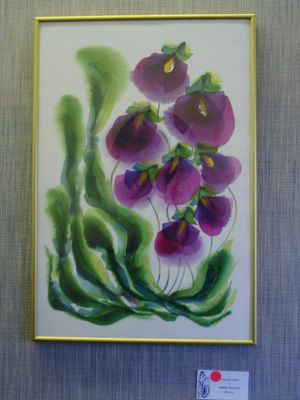 Long Tall Sassy

Links to photos of the opening gala
.
Guitar playing by friend Tom was the perfect touch for a full crowd, noshies and wine.
Links to the paintings on exhibit
.
KV sold four pictures at the opening reception. X'd fingers the rest of the month goes as well.
(this is the obligatory subliminal message ...)
Go! Buy! One! And Buy One For Your Mom Too!