We trundled over to the Mission on Sunday to take a look at
the 10K sq ft converted warehouse
on 14th Street that I was enamored with. (Pictures to follow. Having seen the place, I am now even more enamored. I want to win the Lotto. ...)
From there we headed over to
Borderlands Books
on Valencia to pick up a book they were holding for me. While I was there, I also picked up
Chariot To The Stars
, a collection of Steve Miller's short stories. Borderlands has it all if you are into F, SF or H.
On the way back to the car, we peeked in at
826 Valencia
to see what was happening and then stopped by
Paxton Gate
.
Paxton Gate seems like a cross between Nature Company and Smith & Hawken when you first stop in. As you wander around, though, you start to find some out of ordinary stuff for sale. In the back room a group of adults is learning taxidermy. Drawers full of penis bones are sorted by the type of beast. Among the strange of the strange, though, I found these. Wouldn't they look great as Christmas tree ornaments? Taxidermy taken to Dali-esque heights.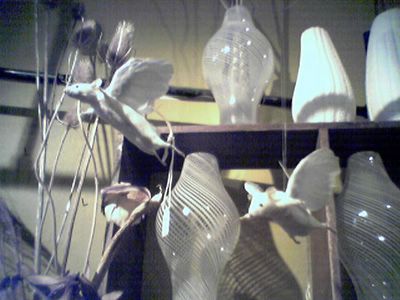 (Photo taken with a camera phone. Not bad, eh?)
Checking through the Paxton Gate Web site, I find that
they're offering another taxidermy class
later this month.
I could taxiderm my own mouse!
Yes, yes, yes. I know. Stuffing beasties for fun seems seriously weird, but then so does collecting penis bones.