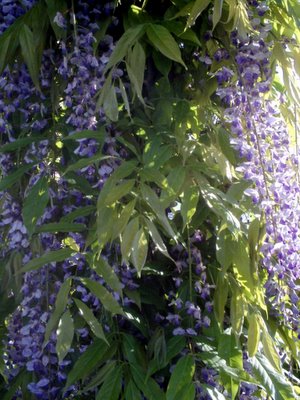 I'd mentioned
that our next-door neighbors were painting their building and rebuilding balconies and decks and what-not. We knew their painters had hacked at our wisteria when we weren't looking, but we hadn't realized the damage done until we went to clean up after them today.
Oh, there's a severed twining branch ... follow the twining branch from the cut section up to the rooftops, unwinding it, extracting it from the spiral fire escape and the metal "sculpture" on the deck side between our place and theirs.
Oh, another twining branch, severed at the third floor. Follow it up ...
And another ... follow it up. We carefully unwound the wisteria that had been murdered from the bits that we could save. The wisteria would grow back. Eventually.
His nibs was cutting and piling the wisteria bits into plastic bags and had one huge bag filled, the second filling. He thought he was almost through.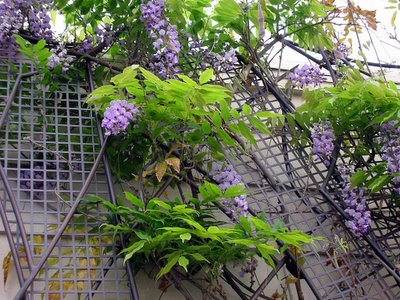 Although we no longer had any wisteria wending its way on the metal sculpture, we still had wisteria wending its way up and around on the spiralling metal fire escape.
... and then, I decided to check further and went one level below our lowest landing on the fire escape, down to our downstairs neighbors' upper landing. The workers had severed the wisteria that was wending its way up the fire escape there too.
What had they been thinking? Why didn't they care that they were murdering the wisteria that had been growing there since forever? Why didn't they think about what their snip-snap would do to the rest of the vining? They were on our property, for pete's sake, on our fire escape. Cutting back wisteria that was brushing against the neighbors' walls so they could paint I could understand, but ... why do what they did?
His nibs is now removing the rest of the wisteria from the fire escape. All dead. All gone. No more wisteria.
The question is, whether the workers also severed the wisteria that was growing up the fire escape on the two levels that our neighbors own. I didn't traipse down their portion of the fire escape to see if the wisteria had been severed at the roots.
Wouldn't surprise me.
How long had the wisteria been growing? I don't know, but some of the trunk pieces were an inch or two in diameter, so it had been years.
Will the wisteria grow back eventually? I don't know. Depends on whether they cut it off at the roots, but fer sure we won't have wisteria blossoms next spring or for a long time thereafter.
... if ever.
I loved that wisteria, loved the blossoms.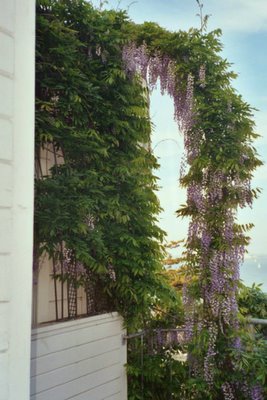 Let go. It's gone.