Sorting through family memorabilia. Boxes of old, old postcards courtesy of great-great-aunt MBB. Found this postcard (with space for a one cent stamp!) produced by the Chamber of Commerce, Berkeley, California.
Herewith, for all the Berkeleyans and former Berkeleyans who might read this blog (and for those who arrive courtesy of a search engine hit for Joaquin Miller).
BERKELEY: WESTMOST CITY OF THE WESTMOST SEA
"Westward the course of empire takes its way." - Bishop Berkeley.
Say, what shall be said of the great Bishop's town --
Bishop, and prophet, and poet and seer? --
Why pluck up a cedar and set her fame down
In gold and in flower-fed atmosphere.
City of cities in stories to be --
Classical, scholar-built Berkeley.
Aye, write her fair story -- as fair as a star.
As sweet as her sea-winds, as strong as her sea --
City with never a stain or a scar --
City of deeds and of destiny:
Sea-born and sun-bred Mecca to be --
Matchless, magnificent Berkeley.
Update -- added picture of Miller from postcard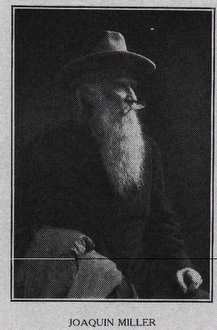 Joaquin Miller
(1837-1914)