We were outside the Clubhouse at the Joe DiMaggio Playground at 5 p.m. yesterday, waiting for the others to arrive. The sun was heading westward and throwing interesting light on the backs of the spires at Saints Peter & Paul. The TransAmerica Pyramid jagged into the sky behind them, the third piece of the triad.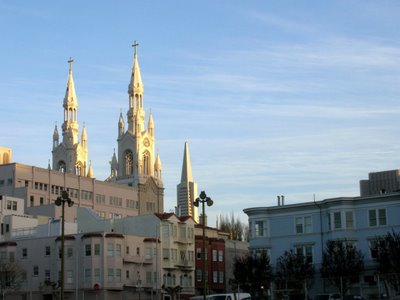 We were there early to setup the seats and snacks for the first of
four Saturday evening noir movie showings
at the Clubhouse. For four Saturdays in February, the Friends of Joe DiMaggio Playground are showing noir movies to raise money to complete the refurbishment of the bocce ball courts.
The movie last night was THE HOUSE ON TELEGRAPH HILL with Richard Basehart, Valentina Cortese, and William Lundigan.
Great story. Backgrounds included the Valentina Cortese character shopping at the New Union Grocery, AKA Speedy's (AKA Jiffy in TALES OF THE CITY), which is the little corner grocery up where Montgomery meets Union. Some hoots as the Cortese character's car's brakes fail and she skids down the hill, down impossible deadend streets that turn into other streets and a sudden sharp end, just before the Montgomery Steps, which are, well, less than a block from Speedy's, except, wait! She'd driven blocks on blocks on blocks, skidding down streets and around corners, she should've at least made it past the corner.
Fun time was had by all. We'll be told at some point how much was made. We had about seventy people spending $10/ea plus what they paid for snacks and drinks and popcorn.