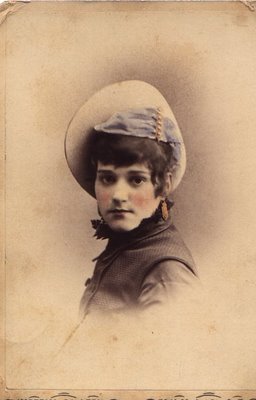 Isabella (Belle) Fallon Brittan was the daughter of Thomas Fallon (of some notoriety in San Jose, California, as well as one of that fair city's first mayors after the Bear Flag revolt) and Carmel, daughter of Martina Castro and either her second husband Michael Lodge or her first, Simon Cota. (I had always been told her father was Lodge, but several sites on the Web claim that Cota is her father.)
Martina's grandfather, Jose Joaquin Castro, brought his family to California in 1776 with the DeAnza Expedition.
Martina was an astute business woman. The Mexican government granted Martina the Soquel Rancho (1,668 acres) in 1833 and the Soquel Rancho Augmentacion (32,702 acres) in 1844. In 1850 with the California Gold Rush causing all hell to break loose for the Californianos, Martina split the Rancho into nine shares, one for her and one for each of her living children.
After Carmel and Thomas Fallon split up,
Carmel moved to San Francisco
with her unmarried children.
Belle married Nathaniel Jones Brittan of San Francisco and had three children: Carmelita, and the twins, Belle and Natalie.
Click on the picture above for more photos of Isabella Fallon Brittan, including one with Carmelita.
Carmelita is his nibs' paternal grandmother. Unfortunately, that land grant is long gone.