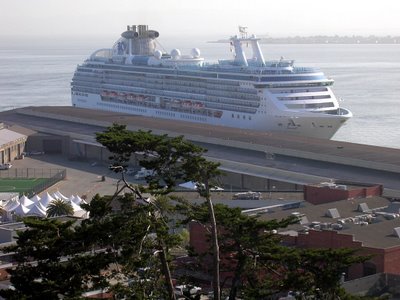 They'd been dredging at Pier 27 for a week or two, night and day, weekends too. Scooping up crud and piling it on barges, which were then taken away to be dumped somewhere.
This morning we discovered why all the work and expense when we saw the
Island Princess
arrive. This is the first time we've seen a cruise ship berthed here. Pier 35 and Piers 30/32 were already booked.
According to the schedule
, the
Island Princess
leaves today and the
Dawn Princess
arrives tomorrow to take her place at Pier 27.. Cruise ship activity is booming. Good news for the travel and tourist industries.