I came across these while I was clearing out trunks in the garage last weekend.
The Lee Michaels - Cold Blood - Ten Years After handbill is from July 1970. The Jethro Tull handbill is from November 1969. These handbills were handed out at the Fillmore concerts, advertising upcoming concerts, so I never saw Ten Years After or Jethro Tull.
I have no recollection who might've been headlining the nights I was there and picked up these handbills. I remember seeing Dr. John the Night Tripper, Santana, others.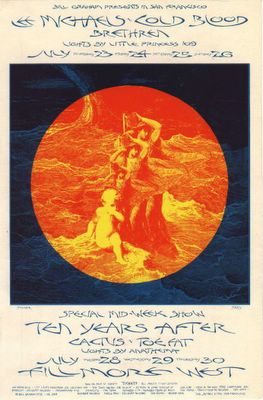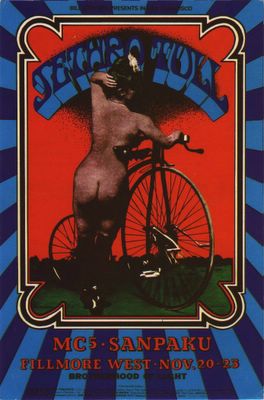 I wonder how many people who were around then saved their handbills. How many handbills are tucked away in trunks and attics?
Further digging uncovered a handbill that's slightly bent but still in good shape.
How many people still have one of these, I wonder.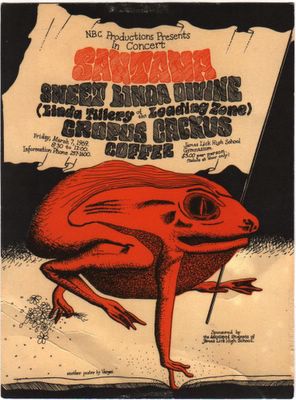 The card announces the concert in our high school gym, Friday, March 7, 1969.
Coffee
Gropus Cackus
Sweet Linda Divine (Linda Tillery of the Loading Zone)
and my fave then and still a fave now, Santana.
Tickets at the door only. $3.
Those were the days, my friends.
Update:
Tracked down the Jethro Tull handbill artist through the magic of the Web. Randy Tuten has
his own site
which showcases his work and art. He sells work off the site too. I hadn't realized how much of the rock art I remember was Tuten's.
Update 2:
David Singer
did the art for the Lee Michaels - Cold Blood - Ten Years After handbill. Turns out he was the artist who did the most poster art for Bill Graham Productions. He now runs a design firm up in Petaluma and sells his posters and other art on
his Web site
.
Go thee hither.