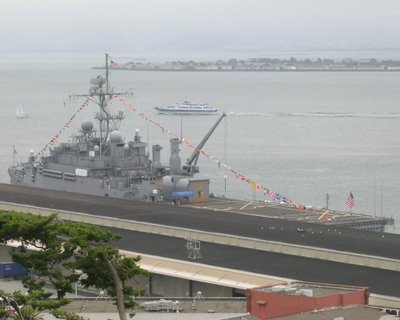 The
USS Cleveland
is decked out for the Fourth of July.
Have a safe and sane celebration, folks.
Here's hoping the fog stays lifted and we can see the local fireworks.
Update:
So far, so good, as of 7:40 p.m.
The USS Cleveland looks colorful in the setting sun.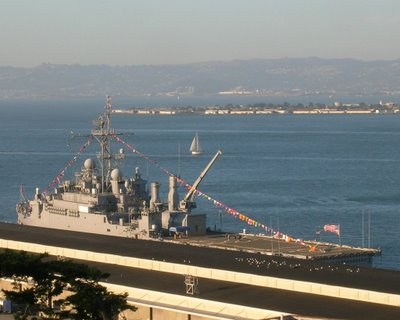 His nibs came up with a couple of Web sites that covered
U.S. Navy Signal Flags
and
International Code Signal Flags
and proper flag etiquette and
how to dress a ship
(up at 0800, down at evening colors) and, by golly, they just rolled up the flags at eight sharp.
His nibs thought I should check to see whether we wanted to watch the municipal fireworks from the rooftop instead of walking down to our top sekrit spot (known only by the cognoscenti and not as crowded as the lot gets at Coit Tower).
I got as far as the top of the ladder and onto the roof above the shed on the deck. From there I would've had to go onto the neighbors' roof than cut back over onto the part of the roof over the building proper.
Never mind the well that's a four floor drop over there to your left and the scamper up and over the roof edge with a four floor drop on that side as well. The roof itself is flat behind the façade. If you don't step on the solar panels and bust them, that section of the roof is a safe place with a good view to watch the fireworks. Ah, but afterwards there'd be the scamper back over and across and down again after dark.
Um. No. Not this year. Something I need to work on for next year. Maybe.