Last Monday was a
"Spare The Air" day
and we took advantage of the free transit offered by the more than two dozen public transportation agencies in the Bay Area counties. We hitched a ride over to Sausalito for lunch and some nosing around. (Usual full fare price is $6.45 one way or a 20-ticket frequent rider set for $69)
The Sausalito ferries coming and going were packed with daytrippers. I'm sure the Sausalito merchants were thrilled with the boost in business.
Unfortunately, Monday was the third "spare the air" day this season and, hence, the last with free public transit for all.
=================
If I were Queen, public transit would be free, or a minimal charge.
More people ride when the cost is nil.
Ridership on the various means of transport was up to 300% higher, depending on the route and the method. Ferries to Sausalito topped the bill.
Why do we keep raising fares to cover the costs of public transit and then seem stunned when ridership drops off as a result?
Why do people drive their own cars? Well, because public transit has its inconveniences and when the costs of using public transit reach a certain level, the inconveniences are too much on top of it.
If public transit were free or a token charge, more people would get around without cars, and we could pour our funds into better public transit instead of using our funds to build more roads. We'd need less funds for policing and ticketing and meter reading and maintaining our roads and highways. We'd get the positive benefits from a drop in air pollution, a drop in gasoline demand.
If public transit were free and better, more people would ride and that would be a
good
thing.
But it's not, and ... I'm not Queen.
=================
We returned from Sausalito and walked down to Pier 14 to get a closeup look at
Passages
, a sculpture by Dan DasMann and Karen Cusolito. We'd spotted the new art from the Embarcadero (yes, from a car) a week or two ago but hadn't had a chance to stop by and see it.
The artwork is up to celebrate the long-awaited opening of the public pier at Pier 14. Unfortunately,
the Chron sez
that the installation is just temporary. Would that it could stay for much longer than temporary.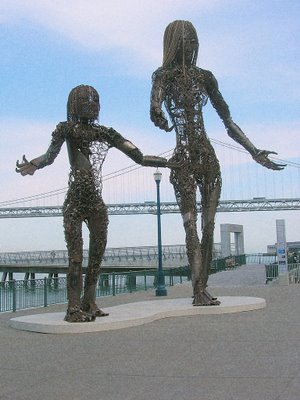 (Click the pic for more pics.)
Passages
is a 30' tall, striking piece of work. Up close and personal, it's fascinating. Whoever installed it, though, wasn't thinking of the skateboarders who were using the base as part of their performance art.
San Francisco has a long tradition of public art. Back in 1969, the public art ordinance mandated that 2% of the construction cost of "civic buildings, transportation improvement projects, new parks, and other above-ground structures such as bridges, to be allocated for public art." That art is overseen by
the San Francisco Arts Commission
.
Later legislation mandated that private construction in the downtown C-3 zone needed to set aside 1% of construction costs for public art. That public art is overseen by the Planning Department, which makes sure that 1% of the budget is set aside and that the public art is accessible to the public (duh!) and is "acceptable."
There are hits. There are misses. There is some of very cool public art because of these requirements.
Cupid's Span
by Claes Oldenburg and Coosje van Bruggen just down the Embarcadero from
Passages
is a favorite.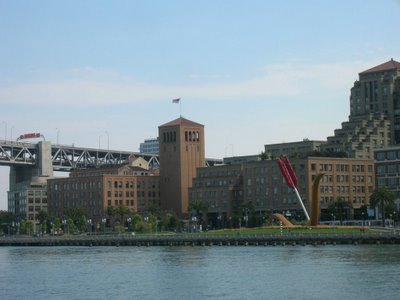 This piece at the Joe DiMaggio North Beach Playground is another.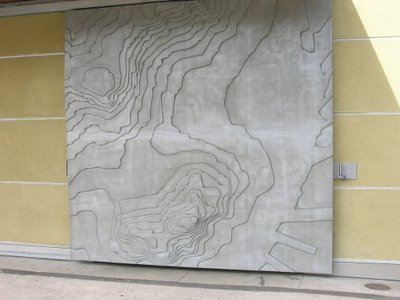 The "piece" is a 9' cold-cast aluminum barrier which shuts off the playground restrooms when the playground closes down for the day. The metal barrier is a topographical relief map of our end of the city, with Telegraph Hill evident at the bottom and the piers sticking out into the Bay.
One of my least favorite pieces of public art in the city (and I just spent a good part of an hour looking for a picture in my photo archives but looks like I've never taken a snap of it) is the hideously ugly (but much loved by someone, I guess) fountain that Canadian sculptor Armand Vaillancourt designed for Justin Herman Plaza.
Hideously ugly doesn't even begin to cover it. For years it had no water running through it either. Now, it has water running, but the improvement in negligible. My favorite piece of criticism is that of San Francisco Chronicle architecture critic Allan Temko, who wrote that the "literally insipid concrete blocks" seemed to be the product of a "giant concrete dog with square intestines."
See for yourself.