Wandered down to the convention center area on Saturday to watch the roadies set up tents on Howard Street, which has been closed off between 3rd and 4th
to give Oracle some extra space for Oracle Open World
, which opened yesterday and runs through Thursday.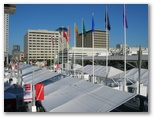 Oracle-ites have already reserved virtually every hotel room in San Francisco during the week - 65,000 hotel stays -- said Jennifer Petrucione, Mayor Gavin Newsom's spokeswoman.
Virtually? Really? No one else in town except Oracle-ites?
500 local temp jobs. $50 million cash tossed into the city economy. There's a reason the City decided they'd give Larry the extra room he was asking for despite the grumblings.
The weather's been beautiful. The sun is shining, after the fog burns off.
Chartered buses plastered with Oracle signage are cruising down to Fisherman's Wharf and over to the ferry building.
We had Sunday brunch at
butterfly
at Pier 33 on the Embarcadero and had to walk through the shouting, raucous mill of
pickets outside Pier 31 1/2
.
Hornblower's ferries to Alcatraz are packed despite the milling, sign-carrying pickets from the union. If you come to San Francisco but once in your lifetime, you have to be pretty sympathetic to the cause to "do the right thing" and give up your trip to Alcatraz as the pickets are demanding. Shouting at people and waving placards in people's faces probably doesn't change many people's minds one way or another.
When we came out of the restaurant, after brunch, the pickets were gone.
Between the 42K people that Larry Ellison's brought to town and the 15K+/- runners who raised $16 million for the Leukemia & Lymphoma Society with a
marathon and half-marathon
yesterday and whoever else is in town, the F-line's packed, the Embarcadero's packed, the new Westfield Shopping Mall on Market's packed, and we're on the lie low until the weekend.