Last Thursday afternoon we were due at a SF Botanical Society reception at
the Strybing Arboretum
, so we decided to head over after noon to
the park
and take a look at what was happening at
the de Young
, sip some tea at the
Japanese tea garden
and just sort of wander until we were due at the Strybing.
We walked down to Washington Square and caught the 30 to Stockton and Market Streets, where we got off and ducked into the Powell Street Muni Metro station. Multiple Js, Ks, Ls and Ms came and went while we waited for what seemed far longer than we should've for the N-Judah.
Hopped off at 8th and Irving and walked over to the de Young.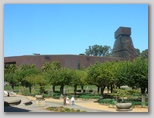 Snapped a couple pictures of the in-progress new
California Academy of Sciences
complex, scheduled to open in late 2008.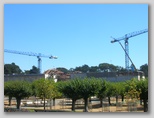 The
Quilts of Gee's Bend show
lived up to its buzz. We roamed around checking out other work in the de Young before heading up to the top of the tower to see the amazing view on such a clear and sunny day.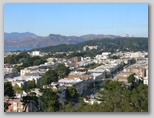 After we checked out the goods in the museum shop, we headed out to the public art in the garden where we (Serendipity-doo-dah #1) bumped into Steve Berger and Paula Hughmanick, long-time East Bay-based friends whom we know from years and years (and years) of SSC-Fallenleaf Lake Week 11s. If we'd been a few minutes earlier or later or taken a different path, we would've missed them. Always nice to see them. Sitting on a wall in the sunshine, we caught up on each other's news.
The day was too nice for them not to go up in the tower to check out the view, we told them. Paula admitted that they'd seen the view in the fog and seen the view at night, but never on a glorious day like Thursday was. Off they went.
And off we went too. We moseyed over to the Japanese Tea Garden to mellow out, sipping oolong tea and munching cookies at the pavilion. His nibs reminisced about sipping tea and munching cookies over sixty years ago when he was a young child and would visit the garden with his mother and grandmother.
We decided to wander around the garden for a while before heading over to the Strybing reception. The garden had been expanded and given a facelift since the early days his nibs remembered.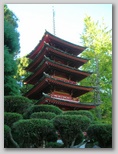 Halfway through our walkaround, we heard a familiar voice call out to his nibs. Turns out his cousin Meredith and her friend Suzanne had picked this day to come up from Santa Cruz and visit the Quilts of Gee's Bend exhibit.
(Serendipity-doo-dah #2) If we'd been a few minutes earlier or later or taken a different path, we would've missed them. If they hadn't decided to visit the tea garden -- Meredith, having grown up in San Francisco had fond memories of the garden herself -- or if we hadn't, if we'd lingered longer over the tea or swilled it down, our paths would've never crossed.
After catching up on the years that had passed since we'd seen Meredith and exchanging childhood memories of the park, we parted ways. Meredith and his nibs swapped contact information and promised to meetup for lunch one of the two days a week he's working down in Campbell, near where she works in Los Gatos.
We walked over to the Strybing and wandered in the gardens until it was time for the reception.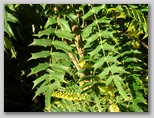 I checked out possible victims for our deep shade garden and took pics of Mahonia blooming. Mahonia is one of the best "good neighbor" hedge bushes of all time ... no bratty kids will plow their way through those spiky leaves. ...
After the Botanical Society reception wound down and before we ruined our appetite too much with tasty wine and yummy food from
Angelina's Catering
, we grabbed a return N-Judah downtown and stopped off for dinner (sweetbreads in lemon and capers for me, sweetbreads with mushrooms for his nibs) at
Sam's
.
A walk in the park: photos