KaBoom!
Yesterday's Chron: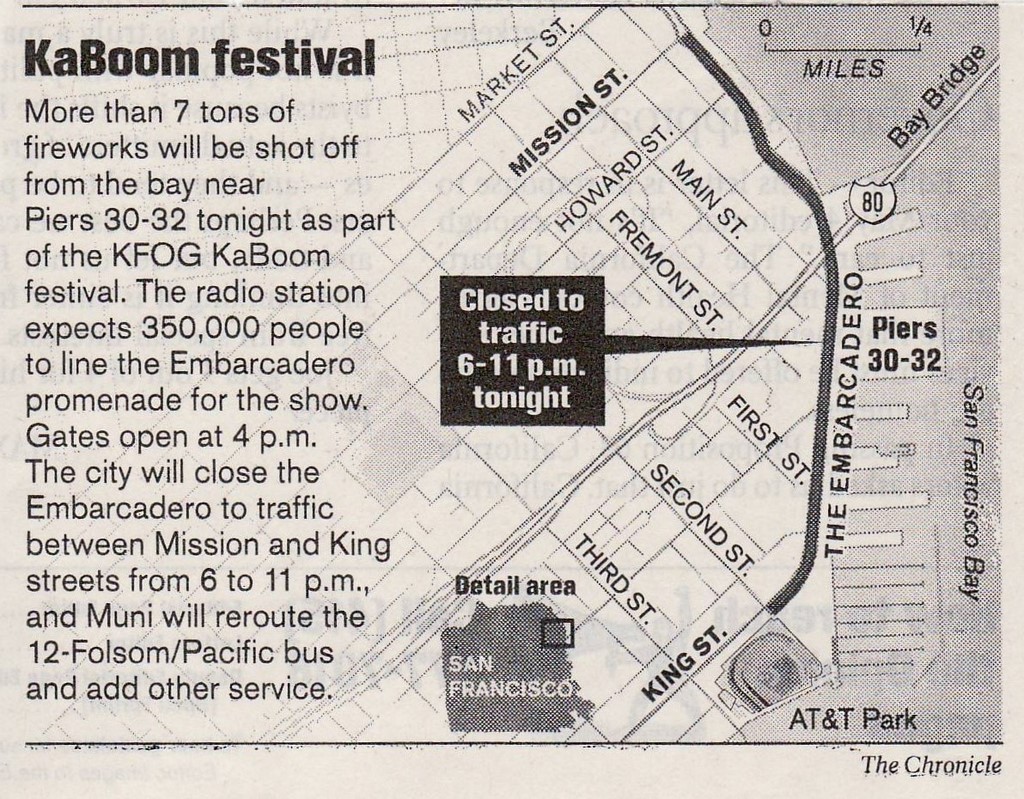 Program cover:

Pics:

My pics don't do the show justice. (I'll
link to the KFOG video
, which gives the fireworks and the music background, when it's up.) Amazing. Thump. Thud. Heart-crashing fireworks set to a KFOG soundtrack. The "single barge" that the Coast Guard was making arrangements for turned out to be five barges full of fireworks lashed together.
KaBooM!
Live music beforehand. This year: Ozomatli, Guster and Kenny Wayne Shepherd. If you go some time in the future, be sure to come before the gates open (we arrived at 3:30p and
still
had to stand in a very long line to get in) and bring a blanket or something (we brought a couple which we folded to spare our tailbones) to stake out your space on the piers. The last hour before the fireworks, the piers keep getting infill with people stopping if there's a spare 2 sq ft of space for them. I get a bit weirded out by crowds cramming in around me. The blanket-sized space keeps me sane.
KFOG's KaBoom ends with hundreds of thousands of people walking home (or back to cars or to public transit) on the Embarcadero. The Embarcadero was closed to Mission, but in reality, the pedestrians had the streets until more like Market. When there are thousands of people walking north, the cars must move carefully up the single lane that pedestrians were allowing them.
We wound up at
Globe
for a snack-ish dinner around 10p. I had tuna tartare (with bread snips and black olive tapenade) and a sausage/garlic pizza. His nibs had a chunk of lamb with garbanzo beans and green garlic. We split a bottle of French cabernet franc. I had some Bonny Doon muscat for dessert. His nibs had some delish crepes stuffed with strawberry cream-cheese and almond filling. (Went well with the muscat!)
Up the steps. Home again by 12:30a. Slept in.
Happy M-Day to the Mothers and to those who Mother without having the actual title.