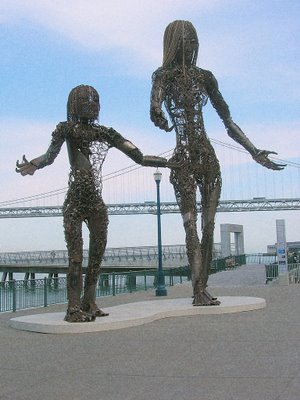 Driving back from the dump/Costco/TraderJoe's fieldtrip on Tuesday, we noticed that
Passage
, the wonderful sculpture by Dan DasMann and Karen Cusolito, was being loaded onto a flatbed truck out in front of Pier 14.
Alas. Sorry to see
Passage
go, but moderately happy that at least we were able to enjoy the art piece for
over four
almost three times longer than the six-month installation that was originally planned.
July 2006 blogpost w/ pics
. For pics only, just click on the pic above.
Update:
and
FINALLY!
I stumbled across a
photograph
of the work as it was originally installed at
Burning Man
(while I was trying to determine whether the title was
Passages
or
Passage
) and had one of those aha! moments.
Now
, I get the title. ...