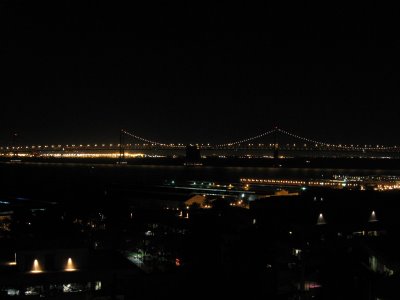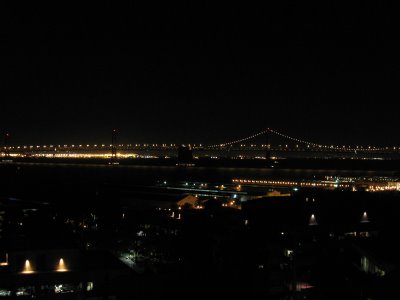 Watching the lights go off on the Bay Bridge last night.
That blaze of lights on the other side of the Bay is the
Port of Oakland
, destination of most of the shipping traffic that we see from our perch.
Lights Out SF was a feel-good event that
got people involved
who hadn't been involved. I'm not sure whether anyone said to themselves, dang, I can make-do with only one lamp burning at night, not the seventy-seven I turned out for an hour on Friday.
I swopped out three incandescent light bulbs with three CFLs. Consuming less energy bit by bit, but nowheres near being
a cragger
.
For those who can (those who have individually metered electric and have been living in their place since at least last October and who, unlike us, don't have solar and a meter running backwards and so
don't
have any way of knowing how much energy we used last October or this), you have until Wednesday to sign up for
the San Francisco Climate Challenge
. Challenge kicks off Thursday.
[* Journey. LIGHTS]