See his nibs walk up Union.
See his nibs walk up Union and find on the sidewalk where Union crosses Grant one of the ubiquitous bits of "free" stuff you find on sidewalks in the City.
See his nibs think, oh, Sal will find this highly amusing.
See his nibs bring the sidewalk treasure home with its sign still attached.
Only in San Francisco.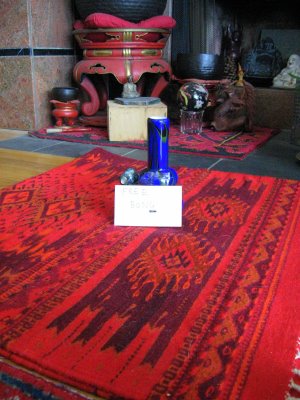 And, perhaps only in San Francisco, would someone then take a picture of the free! sidewalk treasure and blog about it.
[et voila! Let me introduce you to my new Canon A570 IS. The Nikon CoolPix 5600 (purchased in November 2005 and used to take a gazillion pictures in the last two years) had been on its last legs for a while. The aperture wouldn't close without tapping the camera against the heel of my palm multiple times, with increased force.
Finally, as of last weekend, the aperture wouldn't close at all. The final straw was the streaks that I'd been dealing with in pictures for a while now. Usually one or two pictures in a set would have the streaks showing, but the streaks were ALL OVER MY PICTURES OF THE BLUE ANGELS.
Ahem.
Yes, soze here's the new camera and now I have to internalize all the whizbang gadgetry until I don't even need to think about just how exactly you set things up if you're taking pictures of fireworks or need to take pictures (in a museum, say) without any flash. The IS (internal stabilization) should be mighty helpful.]