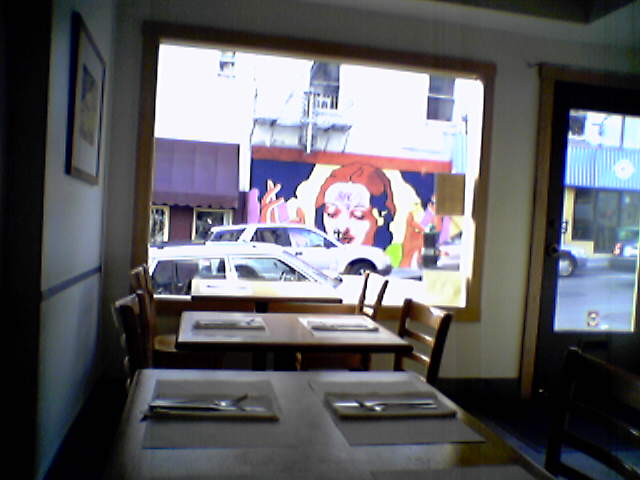 Camera phone photo from within
The House
on Grant.

Digital photo taken from just outside The House's front door. (click for larger image)
No comparison, right?
For now.
Most camera phones currently in use have low resolution, a fixed focus, no flash, and no zoom. Photos tend to be poor quality, fuzzy pictures of friends at a party or street scenes or someone's eyeball staring at the camera.
Camera phone quality is improving at an astounding rate, however. In 2003, Samsung introduced a 1-megapixel camera phone. In spring 2004, Samsung introduced its first 3.2-megapixel camera phone, followed by a 5-megapixel camera phone in Fall 2004. Buzz is that camera phone manufacturers will be coming out with camera phones with hard-drives, telescopic zoom lenses, and video and MP3 players.
Just the other day, his nibs sent me
a link to an article
about Toshiba starting to ship a 0.85-inch, 2-Gbyte hard drive for mobile devices, with a 4GB due out mid-2005 and 8GB by 2006.
Zounds!
0.86"
What a world. What a world. What a world.