Don wasn't quite sure where he'd been the other day,
when he wished he'd had his camera with him
.
I suspect he was at the corner of Lombard and Hyde. [photos follow]
Yesterday we spent our Sunday afternoon doing the usual: looking at
(1)
quaint studio cottage on Kearny
, just south of Filbert, 'neath Coit Tower. Cobbled together from four earthquake cottages. Sold furnished. $779K. No parking, of course. No views.
(2)
401 Union St #101
. A nice 1BR/1BA condo at Union and Kearny. Parking. $595K, which comes to a price per sq ft of $792.28. Agent said he already had two prospective offers and another agent was bringing by a client. Good deal, he said, in a nice neighborhood, when I asked him what he really thought of the price.
(3)
$6.5m house for sale up on Russian Hill
(owner, she of
Legally Blonde
, has moved to LA). For $6.5m I'd expect a more dazzling view than just interrupted snippets of the Golden Gate Bridge. Nice roof deck. Sound system throughout. Lovely wood floors. Delightful custom artwork on the walls of the young child's room. (Owl and the Pussycat, Dish and Spoon, piggies, &c.) Far more bookcases that I usually see in a house, but ... $6.5m? I don't care if it
is
huge and
historic
, a Pueblo Revival house designed by Charles F. Whittlesey, one of the houses on Russian Hill built for Norman Banks Livermore. THERE IS NO ZILLION DOLLAR VIEW. This place is
not
worth $6.5m without a view.
Wandered further until it was time to head home before heading out to dinner.
These photos were taken yesterday (Sunday) from the corner of Lombard (that crookedest street) and Hyde (where the Hyde Street Cable Car runs down to the Bay). Sunny day. I happened to have my camera with me.
Click on photos for larger images.
Looking east toward Telegraph Hill. You can see the red cranes behind Yerba Buena Island and the new Bay Bridge eastern span under construction. Cone-shaped Mount Diablo in the far distance.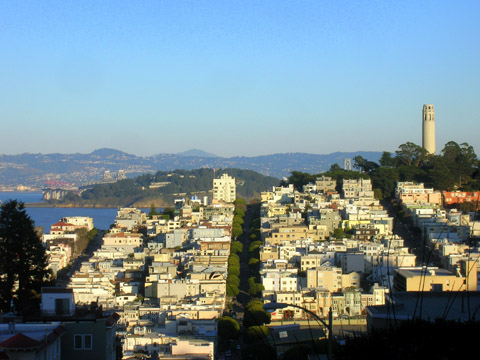 Looking north toward Alcatraz.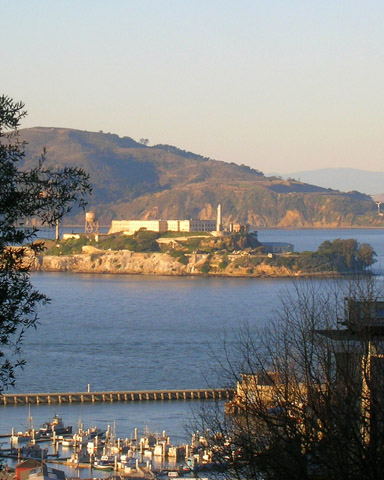 If the day had been slower, if there hadn't been cars barreling up Hyde from the Bay and cars inching onto Lombard from three directions, if I hadn't had my doubts whether people would notice me standing in their way, I would've done what some other hardy souls did, I would've stood in the middle of Hyde to take the picture of Alcatraz, but, instead, you get this picture with a bit of tree on both sides.
Lovely day, though.