As promised
, trashy pictures taken the other day as we were walking the streets of San Francisco.
Back when our Board of Supervisors was considering
a proposal
to charge $0.17/bag for plastic grocery bags distributed by the large grocery stores (we're not talking the vegetable stands on Stockton St. here), I dropped an e-note to our esteemed Supervisor and President of the Board of Supervisors.
San Francisco is a-wash with plastic bags flying in the streets, the San Francisco Commission on the Environment and others said.
Something must be done, they said.
Oh, hogwash.
My note said that rather than charging $0.17/bag and whining that people were tossing plastic bags into the recycle when
they were not supposed to
, it would behoove San Francisco to put some mechanism in place to allow folks to recycle their plastics with the usual recycle pickups, a practice
implemented
years back in the bucolic ville nestled in the foothills of the Santa Cruz mountains.
We do not want to pay $0.17/bag for plastic grocery bags. We don't toss them on the street. We use our plastic grocery bags to line the kitchen trash bin. We use our plastic grocery bags to stash litter that we pick up and discard. We use our plastic grocery bags to dispose of kitty litter. Others use them to use to pick up doggy poop, as required by City ordinance. Plastic grocery bags are useful.
If you have bags you don't want or need, they should be
easily
recycled.
Did I hear back from our esteemed Supervisor and President of the Board of Supervisors?
No.
Is his nibs on our esteemed Supervisor's e-mailing list even though he's never sent him an e-mail? Yes.
Am I? No.
Well, nevermind. I'm used to being ignored and whining in vain.
But re plastic bags. What a crock.
The problem in the City is trash, paper trash, and litter. Telephone books left out in the rain. Restaurant take-out menus left on door knobs. Blats (yes, blats like the
Examiner
) left unwanted on residents' doorsteps. Beer bottles, wine bottles, liquor bottles. Starbucks cups. Plastic spoons and ice cream cups. Straws.
The problem in the City is trash and litter, not plastic bags. Walking down the streets, it's not plastic bags I see, it's crap like this: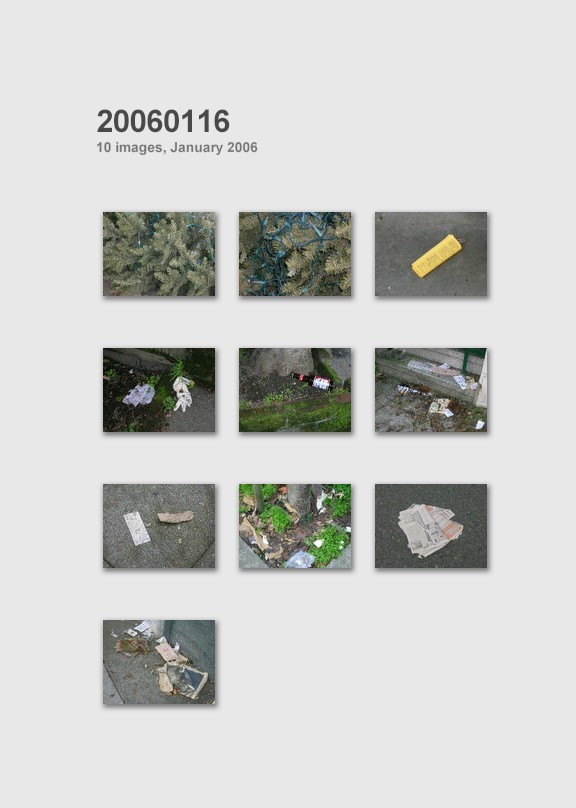 She's whining about Christmas trees now? you say.
Well, yes. The rules are, take your tree out to the curb and we'll pick it up and chip it for compost. Do Not Put Your Tree In A Plastic Bag. Oh, the number of trees we saw in plastic bags! Take All Glitter And Whatnot Off The Tree. Do Not Leave Flocked Trees Out For Recycle.
The tree I took a picture of still had the light strings on it. Yes, I know. Light strings are $1.99/ea and may not worth saving year-to-year, but trust me, chipped light strings do not good mulch make.
Strip the tree. Put the light strings in the garbage or give them to the Goodwill. Leave the tree at the curb. How hard is this?
The City has
convinced
the major supermarkets to voluntarily cut down on the number of plastic bags they distribute to customers in lieu of the $0.17/bag fee. As of last November, no more double bagging.
We'll see how
that
works out. Will it cut down on the trash in the streets and pushed up into the corners of doorways by winds? I don't think so. Plastic bags were never the problem.
San Francisco has to come up with some other way of cleaning up the streets. Perhaps the City could encourage residents to take the "one for the road" pledge.