We've seen this ship down at the southern piers, where ships go for rehab and maintenance, for the last week or so.
Big! we'd say. What ship is that? But we'd be speeding down the highway and didn't take time to look.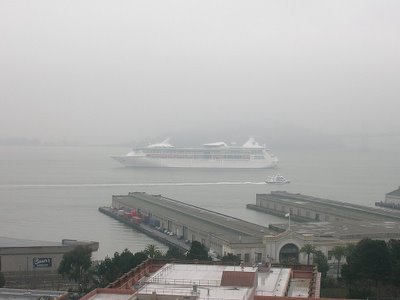 Whatever they were working on is finished. The
Royal Caribbean Visions of the Seas
left port this morning.
Big!
Room for 2,435 passengers. Ten decks.
A rock climbing wall!
The priciest digs? The Royal Suite: "Separate bedroom with king-size bed, private balcony, whirlpool tub, living room with queen-size sofa bed, baby grand piano, refrigerator, wet bar, dining table, entertainment center, private bathroom, vanity area, hair-dryer, closed-circuit TV and phone. (1,140 sq. ft., balcony 131 sq. ft.)"
If you book the Royal Suite, you also get free (hah!) concierge service and access to a private lounge so you don't have to sit in a deck chair next to ruffians.