Talk last night turned to timewasters. e.g. the way a click at
Grapes2.0
to an
amazing
YouTube video (a masterpiece of morphing called
Women in Art
) can lead to a similar morph based on Caravaggio work and then on to Picasso and then Matisse (all justifiable because they are
art
and
educational
) and from there to GeorgeW and (a couple wasted hours later) you come out of your zombie state to find you've wasted how much time? watching
Barats and Beretta
YouTube videos and the like.
"Happen often?" I was asked.
"Oh, hardly ever," I answered. "That's why it gave me that oh-shake-it-off-yick feeling that I used to get
years
ago when I'd overdosed on Barbara Cartland."
So what do I do today? I hied over to
popurls
(which
I mentioned
a while back -- Wednesday, to be exact) and starting poking through Digg's hot hits.
... and found a click to
Schrodinger's LOL cat
which led me to
I CAN HAS CHEEZBURGER? ?
, the weirdest collection of LOLcats I've ever seen.
[as defined on Wikipedia: Lolcats, a compound of lol and cat, are photos of cats with humorous captions]
I CAN HAS CHEEZBURGER? ? has seventy-five pages worth of pictures with captions (not all cats). With, perhaps, ten pictures with captions per page, we're talking
a lot
of pictures. I started to get that queasy overload feeling long before I got to page #75.
What kind of pictures are we talking about? Something like
ALICE CAT FELL DOWN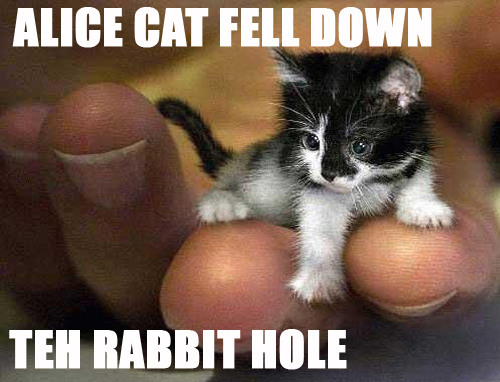 Ahhhhhhhhhhhhhh. Sweet!
His nibs came over and was standing behind me to see what I was snickering about.
"Remember the conversation last night about time wasted on the Web?" I said.
[note: As I was rummaging through Grapes2.0 to find the link to the "Women in Art" video on YouTube, I realized he'd covered I CAN HAS CHEEZBURGER? ? recently ... like just this immediate past Wednesday! That's three days ago! Guess I should pay more attention to the plethora of entertaining links he collects on his blog. I could've been wasting time earlier this week, instead of today.]