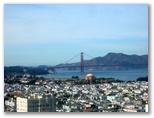 Photos taken from the roof of a building on Broadway in Pacific Heights.
Click above for small (four image) gallery.
First two pictures were taken facing west and show the Golden Gate Bridge and Palace of Fine Arts. The next was taken facing north and shows Alcatraz with Fort Mason in the foreground. The last was taken facing east and shows Russian Hill. The top bit of Coit Tower on Telegraph Hill can be seen peeking up over the top of Russian Hill.