Not that I had "Where are you?" questions from anyone but sibs trying to get hold of me. (Note to self: Cell coverage in Yosemite is nigh non-existent. Next time you head that direction, don't assume that people can get hold of you there and you don't need to tell them where you're going.)
Ian
had people wondering where he'd gone off to. Me? No one noticed.
sniff
Because we were only going to be gone a wee bit, we didn't prevail upon Auntie K. to give up her gig in Morro Bay or wherever her next gig took her. We told the Chron to hold off tossing papers on our stairway, cleaned the kitty box and set up the big water jug (glug. glug. glug) and a huge pot of food for the cat whose boy is 3K miles away before we ran off to Yosemite for five days.
The boy whose cat is 3K miles from him had flown in late Saturday from his AmeriCorps gig in Alaska and was due to leave Sunday evening for Boston. His brother and his brother's partner drove up from Santa Cruz for some quality time. The younger younger one entertained us with stories of Denali and Northern Lights. After sufficient discussion, we went to Stinking Rose for dinner after which the guys headed back to SC and the younger younger one settled in on the office floor for the night.
Next day, Sunday, we headed off to Yosemite after making sure the Super Shuttle would pick up the younger younger one in time to get to the airport for the Boston flight.
(Note: The younger younger one left the door ajar when he left. Ooops! Luckily, the neighbors are honest critters because we didn't get back to check the premises until days after he left. He also left his cell phone somewhere, probably the taxi in from Logan Airport, and had to get a new cell phone ASAP after arrival in Boston.)
So, what were we doing in Yosemite?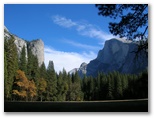 His nibs had last been in Yosemite in the early 60s. I'd been there a few years later, camping with my family and my dad's twin Dan and his family which at that time consisted of my Auntie M. and cousins L and J.
He decided it would be a swell idea to hie off to Yosemite and the Ahwahnee for the first of the year's Vintners' Holidays, a wine tasting seminar sort of thing, plus a dinner, plus all sorts of free time, plus a room at the Ahwahnee, plus an extra day, in our case.
I've been sorting through the pics -- over four hundred -- and, frankly, I'm overwhelmed with all the photographs I took. (Count how many photographs there are of Half Dome. I dare you. ...)
For the time being, I'm dumping them all in the lap of whoever might be interested in photographs of Yosemite during the last days of October, first days of November, 2006.
I'll give this brief travelogue.
The wine seminars went from 1:30-3 and from 4-5:30 on Monday and Tuesday. The posh winemakers' dinner was Tuesday, October 31st.
We drove up on Sunday from San Francisco. Took us four and a half hours to get to Yosemite, which is DYNAMITE considering what it would take on a Friday afternoon/evening during the high season.
We arrived on Sunday afternoon. There was a winemakers' reception with hors d'oeuvres and lots of wine that evening. We followed on with dinner at the Ahwahnee dining room because we were there and the restaurant was there and hey! ... Next day (Monday) we ate breakfast at the Ahwahnee because we hadn't yet scoped out where the cheap breakfast eats were, but woo hoo! The Ahwahnee breakfast buffet includes smoked salmon and capers AND Eggs Benedict! Yay!
We ate at the breakfast buffet for the rest of our stay. We also skipped lunch for the rest of our stay. ...
We walked around in the morning. First wine seminar. Walked again. Second wine seminar. Took the shuttle bus over to
Curry Village
Yosemite Lodge and had dinner there. (Curry Village eats were closed for the season.)
Tuesday we walked in the morning again from after breakfast until the first seminar and in the afternoon between wine seminars. Winemakers' dinner Tuesday night. Over the two days, we walked up to Yosemite Falls, over to Yosemite Village, to Curry Village, Camp Curry, to the last leg before Mirror Lake, &c.
Wednesday most of our wine/dinner companions headed home. We stayed on.
We walked up to Mirror Lake, which was not a mirror because it was dry for the season, and then walked back down and over to Happy Isles and up to the Vernal Falls bridge, then up to the top of Vernal Falls and Emerald Pool.
Instead of scrambling back down along the path that goes to/fro the top of Vernal Falls -- which had given me quaky knees because the fall off the edge is steep and the path is, well, just scary -- we walked around the back end of the loop up to the ridge and back around Clark Point.
The hike was exhausting because I need to ditch some extra weight, but well worth the exertion because the views are spectacular.
On Thursday morning I had my last breakfast buffet with Eggs Benedict at the Ahwahnee and we headed home, stopping at Hetch Hetchy and also at Don Pedro on the way back down. We took a loop around Jamestown (too late to check out the railroad museum, alas) and back around the far side of Don Pedro.
The detour/excursion, unfortunately, delayed us long enough that we hit sticky traffic getting back into the city over the bridges. We wound up taking 92/San Mateo Bridge rather than the Bay Bridge because of a really weird traffic mess on the east side of the Bay Bridge.
Home again. Home again. Riggety jig.
We ditched our luggage and headed down the hill for supper at Mario's Bohemian Cigar Store at Union and Columbus. We both had cannelloni and we split a liter of the house red wine. Comfort food.
Welcome home.
Notes:
(1) Turns out, you can stay anywhere in the valley from the tent cabins at Curry Village to the Ahwahnee and attend the seminars at no extra charge. The dinner is a per-person cost deal, but bunking at the Ahwahnee is not a requirement for attending the wine seminars. Good to know. (Getting the Ahwahnee/seminar package deal, however,
does
get you a pair of wine glasses and a half-bottle of wine. Woo hoo.)
(2) I'd never heard
anywhere
how beautiful autumn is in Yosemite or how peaceful it is with a total lack of the throngs you always hear about. Lovely, lovely time to be there and if some of the snack shops or whatever are not open for the season? Oh, well! You could still hike almost everywhere in the Valley you wanted to go. (The Vernal Falls/Nevada Falls trails were getting close to closing for winter. Go before they close next year! Too late for this year. ...)
Eventually, I'll get these photos sorted out. For now,
this is the rough cut
.
Hope you find something there you like.