Thanksgiving Day walkaround - a photo tour of
the Piers
, the newly-reopened Piers 1 1/2, 3 and 5.
The mater familias couldn't make it to a Thanksgiving feast on Thursday, so we had our Towse Thanksgiving feast yesterday.
Near everyone was there except for our youngest and his big sister, who lives outside Chicago, and her family. We heard from both of them though, so that was cool.
The youngest had Thanksgiving with my New England relatives up in the back of beyond at my cousin's home, a restored school house. He got back to Boston in time for his first professional standup experience Friday night. The gig was at the Boston comedy club where his sketch comedy troupe has had the stage (with friends and fellow comics) on Friday nights since last May. ("Well, how did it go?" "It went pretty good. ..." "No one pulled you offstage with a hook?" "Well, no. We
are
running the show, after all.")
My younger brother and his family hosted our Thanksgiving yesterday. YB brined a 24 1/2 pound turkey before baking and carved up a
very
juicy, tasty bunch o' turkey. (He'd had a practice run with a sixteen pound turkey on Thanksgiving Day. ...) Stuffing. Delish. Ym. Pies. Pumpkin and apple. Birthday cake. Befores. Afters. Whipped cream in my coffee.
Added:
We brought the peanut butter-stuffed celery. Yes, I know. We also brought a mixed green salad with the usual mesclun mix you can find pre-mixed. Add toasted pine nuts, tomatoes and a vinaigrette made with balsamic vinegar, olive oil, spices of a secret sort, sesame oil. We also brought the (this year not-so) traditional yam/sweet potato dish. This year it was a smashed yam/sweet potato dish made with mashed yam/sweet potatoes, brown sugar, coconut milk, eggs, fresh grated ginger, powdered ginger, vanilla, cinnamon, nutmeg, ground cardamom. We pre-baked the dish and then reheated it at YB, after topping with brown sugar and crunched macadamia nuts. I
did
like it.
A couple days earlier, on Thanksgiving Day, while YB and his family were feasting on their first turkey, his nibs and I went for a walk down by the bay's edge. Piers 1 1/2, 3 and 5 had reopened the day before, Wednesday, after thirty months of construction -- extensive rehabbing, retrofitting and renovation. Part of the work was the creation of public walking paths along the bay's edge on the eastern edge of the piers.
We'd had a preview of the rehabbed piers at a SPUR event earlier this year, but there were lots of areas blocked off then because construction was still in progress. I wanted to see how they'd turned out. At the SPUR event we got to see inside the buildings but could not wander around outside much. Thursday we could wander around outside but could just peer in the windows, where construction is
still
going on.
Click on the thumbnail for the gallery.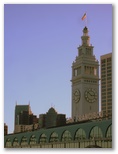 The bayside walk comes with hanging flower baskets and benches for sitting. Embedded in the railings are brass plaques with San Francisco-related quotations or historical nuggets.
The piers looked great even though they are not
quite
done. The interiors of the buildings need more work as well. Worth the wait. Good job to all.
Oh, yes, mustn't forget. Ever seen a squabble of wild parrots?