I've been writing this week -- not things I wanted to be writing, though.
Names of the living and their spouses and places they reside elided.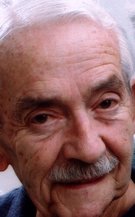 Donald Frederick Towse
Don Towse died April 16, 2006, while snorkeling off the San Blas Islands, Panama. Born Dec. 1924 in Somerville, MA, he was a local resident since 1960. A Ph.D. geologist (MIT) with a world-spanning career with Kaiser and the Lawrence Livermore National Lab, he was also actively involved with Civil Air Patrol for 45 years and with the American Association of Petroleum Geologists. As was his spirit, Don tandem-jumped at 10,000 feet "from a perfectly good airplane" to celebrate his 80th birthday in 2004.
He will be dearly missed by his wife of sixty-one years, and his three surviving children. Three of his six children died as adults. Grandpa to nine, Don is also survived by his twin brother and three of his four younger brothers.
Memorial services are pending.
Update: (Sun 24 Apr 2006)
Don Towse Web site
Update: (Sat 23 Apr 2006)
Talked with
the Merc
tonight. They think Dad deserves a "news" obit in addition to our paid death notice.
Oh ... long story there. ...
I'd thought I'd arranged for the paid obit (not cheap!) to run SA-SU-MO.
Got a call today from someone who was not the someone I was dealing with yesterday: "Do you still want to run the notice?"
"huh?"
"Do you know how much this is going to cost? Do you still want to do it?"
Damn.
Yes, I know how much you charge. Just run the notice.
Damn.
Well, now that I've said, "Just run the notice." they'll run it SU-MO-TU.
Feh.
The person who called from the "news" obituary desk was ... amazing ... I would not want her job. She asked good questions. She was soothing. She's working until midnight tonight on the obit desk.
"Could I ask? Why are you the one who's contacting the newspaper, organizing the obituary?"
"Because the family thinks I'm 'the writer' and they think this is what I'm good at doing."
(Ghod know they know I'm hopeless with phones and why they thought I should be the one to call up the Merc and say, you know? I think my dad deserves a real "news" obit...)
I sent the photodesk the professional photo Dad commissioned to commemorate my parents' 60th wedding anniversary in 2005. Told them they could crop it, which is what I've done here. We'll see what comes of it.