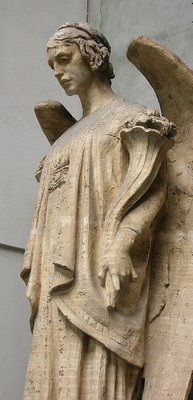 The Exploratorium
is an entertaining place. We've supported it for decades and used to drive up with the younger guys to visit when they were younger.
The Exploratorium has outgrown its 100K sq ft at the Palace of Fine Arts and has been looking for new digs for years. The lease on the facility at the Palace of Fine Arts is up this spring and time grows short.
Judging by stuff I snoooooped out at the Port Authority Web site and (finally!) genuine news articles, the Exploratorium has been granted a
three-year exclusive negotiating agreement with the Port of San Francisco
to open a new facility at Pier 15 with an option to develop Pier 17 if they need more space in the future.
Yippee! x'd fingers. If they get Pier 15 (and it's not a slam dunk by any stretch), it'll take time to restore the pier and then to move the contents of the building at the Palace of Fine Arts.
I was talking with one of the honchos a couple months ago and she said they were hoping the Exploratorium would only be closed a very short while once they were ready to move. Preparing for the move, however, will take years.
When we were visiting last Saturday to see Hickok's art, we also checked out the
"Reconsidered Materials" exhibit.
Here are some highlights from the exhibit, which continues showing through June 18, 2006.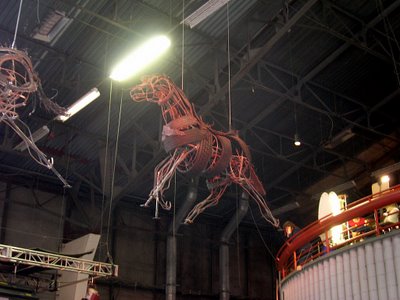 A small herd of horses hang from the ceiling. Horses made of metals and old tires. Titled "Rubber Horses" by Dorothy Trojanowski. Originally created for the 2005 Burning Man.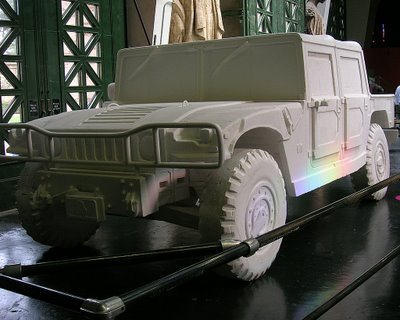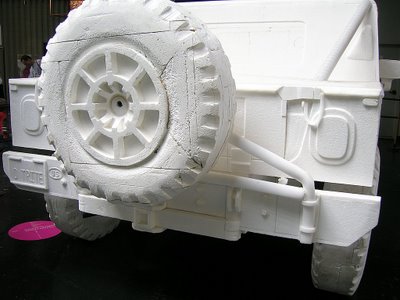 This piece was created by Andrew Junge last year as part of the
Artists In Residence program at the dump
. A Hummer! Made out of junked styrofoam! Amazing. The rainbows are coming from the sun streaming through the skylights. Yes! There was sun on Saturday!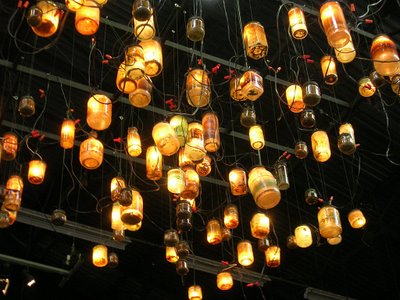 A collection of old bottles, mayonnaise jars and more, stained by chemicals, lit, collected and set together as a chandelier. Titled "A Constellation" by Jim Haynes.
Here
is a description of how he created the work.
... and for Auntie K,
The Quilt
by Claudia Tennyson.