I
wrote
about
Paxton Gate
a while back, but my short bit didn't quite capture some of the weirdness that ripples into view when you come across a place like Paxton Gate. The article on Christopher Moore reminded me of those ripples of weirdness, when I trundled off to find a link to
Monique Motil
's work.
The first link I found, which gave me the link to Motil above, was to the
Minnesota Association of Rogue Taxidermists
.
Monique Motil is a
working member
of the group. Hm. Interesting stuff.
Who besides Motil is a member of the group? Well, the first person I clicked through was
Jeanie M
. Whoa!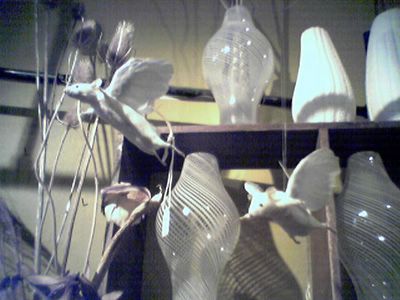 Jeanie M lives here in town and is the person who created
the mouse angels
that intrigued me at Paxton Gate.
Strange taxidermy? How about this Jeanie M. model of
Saint Sebastian
? Jeanie M. also has pics of Bride And Groom mice pairings she's created for wedding cakes. Check out
her gallery.
Um. Yes.
Click through the other
Rogue Taxidermy members
and the
interesting links
at your own risk.