UV
liked this one, posted earlier: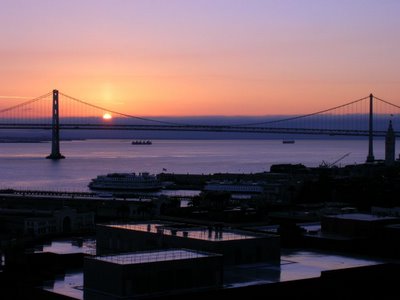 and asked,
What a gorgeous shot! Did you "do" anything to it?
That's "as taken." Must be the new camera! I use
Picasa
for the quick "straighten that horizon" work that I sometimes need because of sloppiness or the astigmatism. You can also sharpen, highlight, crank up the saturation, crop, &c.
If you spin through a Picasa "library," you can tell whenever you've done anything because Picasa shows you a quick look at the original and then says, "refining."
I doublechecked and this shot has no "refining" at all.
The camera's a gem.
My first digital camera -- purchased June 2004 --
was a simple camera to see if I liked shooting digital. This Nikon CoolPix 5600 is more sophisticated, more pixels, optical zoom in additional to digital zoom, more tools.
A nice feature is that if you're shooting, f'rex, in "sunset" mode, which makes the shutter speed slower than normal and (just suppose) you're cranked up to 3x optical zoom, and your hand jiggers a bit, the camera very politely sez, "Hey, you up screwed that one. It's
really
blurred. Do you
really
want me to save it?"
Here's a sunset shot from yesterday. The sun is setting behind me, to the west, and threw some beautiful color on the clouds to the southeast.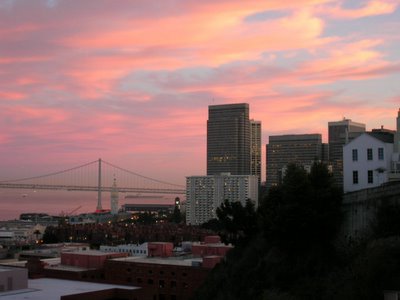 A shot from this morning: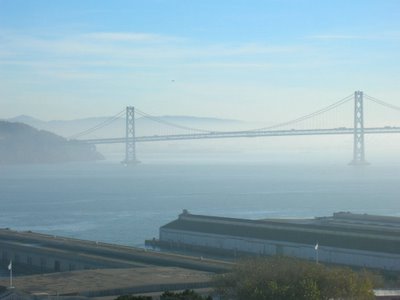 And
the Abe
(which you can see anchored to the south of the Bay Bridge in the sunset picture above) left this morning. The sailors had a liberty weekend. (How many had tickets to see the Stones at SBC Park?) Throughout the visit, there was no news, no protests, no nothing. Here's a picture as it left, Yerba Buena to your right. Treasure Island and the Admin Building to the left. Berkeley (Hi, Harry! Hi, Don!) in the background.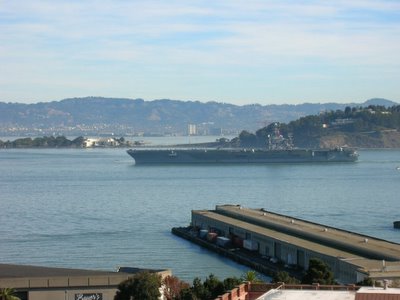 We were at a neighbor's Canadian (i.e. "for no good reason with insufficient notice") party on Saturday. Despite the advice of another neighbor (former bartender) to "drink only wine, beer, brown, clear," I had far too many pale green minty shots of something and spent yesterday wishing I hadn't.
At the neighbor party, I met a guy who is a neighbor from the other side of Coit Tower.
Mikkel Aaland
is a photographer-type who writes about digital photography. We'd been talking about my old camera dying and the search for the new one.
"Which camera?" (meaning the old one) he asked.
"A no-name camera, really."
"Which one?"
"A Concord."
"Oh. So, what did you buy?"
"A Nikon."
"CoolPix?"
"5600."
"Good camera."
Yay. Always nice to have your choices affirmed by someone who knows more than you do.
UV sed,
New cameras are always so much fun.
Indeed.