Crystals facing SE to catch the sun.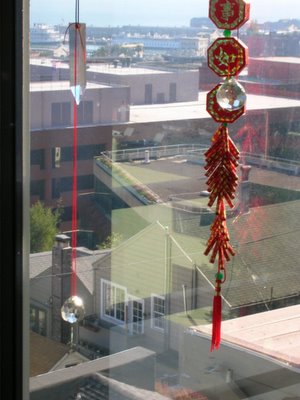 What next? Peacock feathers?
No, that's Marin. Peacock feathers and hot tubs are
definitely
Marin.
Well, except for the peacock feather my dad gave me after he collected the feathers dropped by the neighborhood peacock a few months ago. That feather is kept in a jade-green vase in the dining room, against a dark aqua wall to show it to its best advantage.
Peacock feathers. Irridescence. Beauty.
Physics. All physics.
A while back, I was down at
Yone's
getting some replacement beads and picked up two prisms, with hanging threads which I hung in the sunny SE-facing window to catch the morning rays and throw rainbows all over the living room floor.
A few weeks ago, I was in Chinatown hunting down a gift for a five-year-old dragon of my acquaintance. In one of the shops -- I couldn't tell you which one, but if I walked along Grant, I could find it again -- I found some lovely crystals. The clear ones were inexpensive. I bought two for myself. The pink one that I bought for the young dragon cost five times as much, but pink is her favorite color and I knew she'd appreciate a pink jewel that makes rainbows. Dragons love their stash, you know.
I hung the crystals with the prisms in the SE window.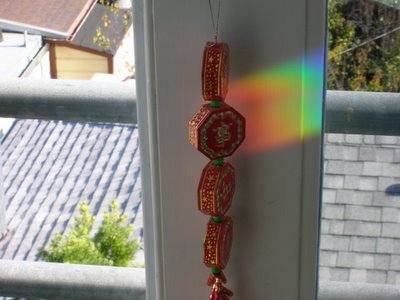 The cat thinks the rainbows are small, colorful creatures that somehow always manage to slip out of her grasp at the last minute.
Rainbows are magical things.
As are crystals.
Magic.
"Magic? It's all in Physics, all in Physics! Dear me, what do they teach them in the schools nowadays?" [riff off Professor Digory Kirke,
The Lion, The Witch, and the Wardrobe
- CS Lewis]