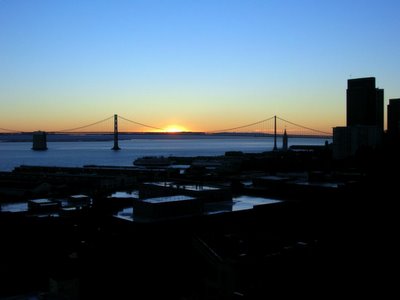 The weather's clear. The Sun is Shining.
Yesterday was a beautiful day.
Today looks to be so as well.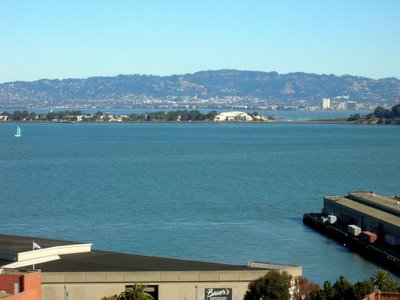 The view of Berkeley just before lunch yesterday.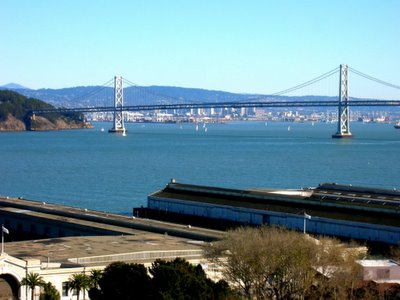 The view toward Oakland -- same time frame.
We walked over to
Jack Falstaff
last night for a winemaker dinner. 2.2 miles each way. 40 min. there. 50 min. back. I'd bundled up a bit as the temps were in the mid-high 40s.
Trudging back up
the Filbert Steps
from Sansome after dinner, eleven thirty, halfway up the 232 (or whatever it is) steps, warm, jacket slung over my arm, I heard something fall over the railing. Uh. Oh. I'd forgotten my phone was in my jacket pocket! Now it was somewhere in the garden, under the stairs.
I stayed in place so we would remember exactly where the phone launched, while his nibs continued on home and came back with a flashlight. I climbed over the railing and into the garden area with the flashlight while his nibs called the phone, which, of course, wouldn't ring because I'd set it to vibrate so we wouldn't disturb other people at dinner if it rang.
Luckily, the faceplate lit up with the incoming call and we spotted the glow underneath the steps near where I was looking. I reached for it, grabbed it, put it up on the stairs. His nibs tucked it in his pocket for safekeeping while I pulled myself up onto the stair supports and swung back over the railing and onto the stairs.
Such excitement.
Good thing I'm still flexible enough to hoist myself over railings.